Powerful liquid probiotic supplement for birds to support digestive function, increase breeding vigour, chick survival, and chick growth.
The digestive system of birds is very easily upset. Any slight stress causes a reduction in the blood supply to the gut. The biochemical conditions then change reducing the effectiveness of the gut and increasing the risk of infection by harmful bacteria. Keeping the gut topped up with beneficial digestive bacteria keeps the bad bugs under control and ensures that as much of the food as possible is actually absorbed into the bloodstream. This is the job of a probiotic.
Many bird keepers and vets have now demonstrated to themselves the superiority of Potent Brew over the traditional, freeze dried probiotics. Potent Brew works so well because it contains bacteria that act immediately once they get into the gut (they don't have to rehydrate themselves like dried probiotics do) and it also contains enzyme components for active food digestion. However only buy Potent Brew in small quantities, as it is a live product with a short shelf life (4-6 months) and ideally it should be stored in the fridge.
If you want to add Potent Brew to water, then it is best to use bottled water and here is why:
Tap water would be fine, as long as there isn't a lot of chlorine in it, as this will kill the good bacteria in the Potent Brew.
Bottled water would be better, but you do need to be careful with the type of bottled water. So try not to use distilled water, as again this would suck out all of the nutrients from the good bacteria and then they would die. Also try not to use bottled water that says "pure" in the title, as this could be reverse osmosis water and would be the same as distilled water.
If your birds are eating moist foods or an eggfood, then it would be more economical for you and guaranteed that your birds would take it by adding it to these foods.
Potent Brew stimulates efficient gut function and improves the bird's ability to absorb nutrition, therefore it contributes to bringing adult birds into breeding condition. When young chicks hatch they have no bacteria in the gut. They rely on their parents to supply them with their food. Potent Brew in the food starts the chicks digestive system off very quickly ensuring rapid early growth and excellent resistance to otherwise dangerous digestive issues.
The bacterial strains in Potent Brew are:

L. Rhamnosus NCIMB 30174
e. Faecium NCIMB 30176
l. Plantarun NCIMB 30173
L. Acidophilus NCIMB 30175
Just take a look at what out customers are reporting: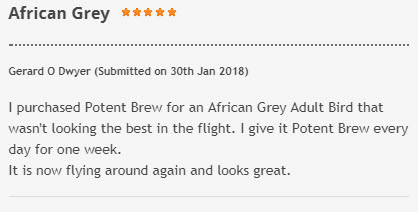 Potent Brew application:

Add to water 5 ml per litre Do not use in the same drinking water as Aviclens (Saniclens in Europe). On food - 1ml per kg bodyweight.

Active ingredients:

(Per litre) per litre: Vit A 160,000 iu, Vit D3 25,000 iu, Vit E 3,000 mg, Vit C 4,000 mg.
Reviews
this is great to get birds back into good health as my macaw was quite ill and needed to get back to a good health

Potent brew has worked well for me this season

Too early to know if product is working. But customer service is A**

V3ry happy with results

good does what it says

Excellent product, a must for newly hatched canaries, gets them through the critical first day's

Perfect for controlling gut health

I've been purchasing potent brew for a few years now to help keep my budgie's sensitive gut under control. He suffers with wretching and nausea and potent brew almost eliminates this. Just a couple of drops in his daily water and it does the trick!

I find this product excellent at bringing round birds looking a bit out of sorts. Even older budgies and cockatiels respond well and start breeding. Wouldn't be without it.

We recently got a new tiel, male around 3 years old. He went downhill fast after we bought him lost all his weight stopped singing looked very sorry for himself. I brough him in put him in our large brooder for warmth and gave him guardian angel, it got him through a few days but was no where near better 3 days on potent brew was alert and eating readily. A week inside with us on observation then back into the aviary. Strong alert and singing away happy as larry I highly recomend.