Posted by The Birdcare Company on 10th Nov 2021
Defra has issued a statement urging poultry keepers and members of the general public to report dead wild birds to its helpline and warns people not to touch them.
As of 5pm on Wednesday the 3rd of November, it is a legal requirement for all bird keepers to follow strict biosecurity measures to help protect their flocks.
Bird keepers with more than 500 birds inside the Prevention Zone must follow strict protocols including restricting access for non-essential people and disinfecting on a regular basis.
Even "backyard owners" with a small number of birds should take action to limit the risk.
Avisafe has been tested and approved by DEFRA as effective against Avian Flu!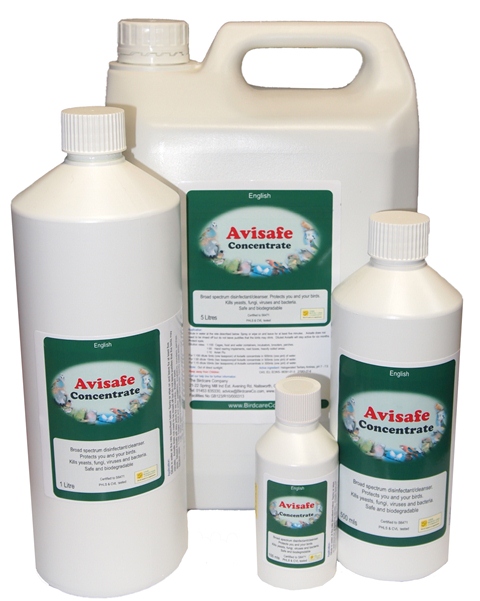 Avisafe - a disinfectant you can trust...
Defra approved disinfectants should be on your list of "keep in the cupboard" products. This will reduce the risk of Avian Flu in your flock. Avisafe is on the list.
Strict hygiene is essential in bird keeping, especially in light of the latest Avian Flu reports. Poultry are particularly susceptible, but we can't rule out the risk that our cage & aviary birds have with avian flu. Baby birds (especially hand reared ones) do not have well-developed immune systems so they need extra special care. Ensuring that feed and water containers are cleaned properly and that cages are routinely disinfected is simple sound advice.
The really important factor to consider is whether your disinfectant kills a broad spectrum of germs. Many only kill bacteria and yet, as pointed out, we have already discovered that viruses are a major threat. Don't forget the risk from yeasts and fungi too.
Avisafe is effective against viruses, yeasts, fungi and bacteria
Stop Press – Avisafe has been tested and approved by DEFRA as effective against highly Pathogenic Avian Flu! It is also an excellent cleaner so is great for removing bird droppings from cages and perches. It can be used onto cage walls and perches and left to dry. There is no need to remove birds from the cages/aviary.
The most attractive features of Avisafe are its pleasant smell and economy. As Avisafe stays active in water for up to six months, most people dilute it in a spray bottle and apply it that way. This uses far less disinfectant than the usual cloth and bucket technique.